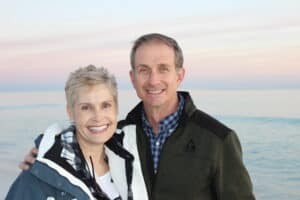 Hi friends! I have spent the majority of my years on this planet raising small people into larger people who are hopefully contributing to our society in meaningful ways. This was done with one very patient husband of thirty-plus years. Presently, we have two married sons, one son and two daughters in college, and a daughter just starting high school. We just found out that our eldest son and his wife will soon be bringing a new little person into the world, to which Richard (my husband) said, "Wait, I still have a kid at home!"
In 2016, I was diagnosed with breast cancer. I know no one ever expects such a diagnosis, but I was floored: I had always eaten well, exercised, and had no family history of the disease. Throughout surgery, chemotherapy and radiation, you can bet I had a lot of questions for God. I had always considered myself to be a spiritual individual, but in seeking answers, it felt like much of my existence became spiritual. Enrolling in seminary seemed a logical step in pursuing theological education, and so I did so even before treatment ended.
I sought an expressive outlet to share what I learned as a student of life experience and the new education I was working on, and a blog served this purpose well. Then, we had the idea of interviewing ordinary people who are doing extraordinary things with the time they have on this planet, and the podcast was born. The purpose of the podcast is to INSPIRE, and I hope that's what it does for you.
I would love to hear your story; my readers and listeners are extremely important to me, and I want to know what is important to you, and what challenges you are navigating in life right now. So please be in touch.
In His love and mine,
Beth